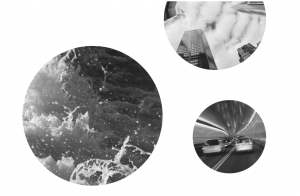 MOSAiC * ArcticExpedition * AtmosphericAerosol * Climate * YourResearch
Aerosol measurements on board the largest Arctic research expedition ever
900 people from 20 nations to make it all happen; 1000 km from land; 390 days; drifting with the sea ice across the central Arctic; lots and lots of measurement data, that will eventually be freely available to everyone on the planet—MOSAiC (Multidisciplinary drifting Observatory for the Study of Arctic Climate) is the greatest Arctic research adventure of all time! The knowledge gained through observations during the expedition will further the understanding of and help better predict global climate change.
During the year-long expedition, a research icebreaker Polarstern carries a container full of aerosol measurement instruments from INAR (Institute for atmospheric and Earth system research), Finland, EPFL (L'Ecole polytechnique fédérale de Lausanne) and PSI (Paul Scherrer Institute), Switzerland. One aerosol researcher is in charge of the instruments on each of the six legs of the journey. From INAR, four scientists will get to experience the expedition first-hand, on board Polarstern—an all-female INAR-team: Dr. Tuija Jokinen, Lauriane Quéléver, Tiia Laurila, and Zoé Brasseur. Two of the six legs are covered by scientists from Switzerland, Dr. Julia Schmale (EPFL) and Ivo Beck (PSI). Others back home get to participate for example in data analysis, like Tommy Chan (INAR), who has been writing a new data inversion code for the analysis of PSM step mode data, to complement the scanning size distribution data. The communication between the ship and the rest of the aerosol team back in Finland and Switzerland happens via Whatsapp messages and short emails. The remote support from the team is important, when it's just one person at a time on the ship seeing to all the aerosol measurements.
The particle concentrations in the Arctic can be as low as 1 #/cm3 (!), which is why they are using the most sensitive instruments possible, to count particles and detect possible new particle formation, that could happen presumably in springtime. To observe the phenomenon from the gas phase all the way up to cloud droplet size particles, the scientists are using a wide range of instruments, including two Airmodus nCNC systems measuring the smallest aerosol particles starting from 1 nm in diameter. Some of the first results of the particle concentration measurements in the Polar night will be presented at the European Aerosol Conference (EAC) 2020, before the expedition is even over.
At the moment, leg 2 scientists are getting ready to hand over the shift to leg 3 personnel. The shift change dates are not set in stone (rather in drifting ice), and at the moment the ice breaker carrying the next scientists to Polarstern is still on its way, while the leg 3 officially already started. On a Polar expedition some surprises and delays are of course expected and planned for. The MOSAiC expedition will continue until autumn 2020.
To read more about the expedition and the science, see the MOSAiC website: https://mosaic-expedition.org/
To follow the events and news related to MOSAiC in real time, follow the project and the researchers on Twitter, for example: @MOSAiCArctic, @PolarYear, @DrFinland, #MOSAiCexpedition, #Polarstern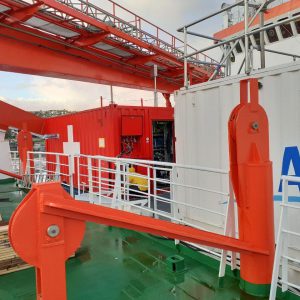 To subscribe to the Airmodus Newsletter, simply email info@airmodus.com