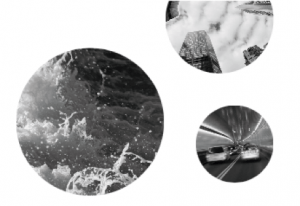 Urban Aerosol * New Particle Formation * Traffic * Sub-3 nm * Your Research
Novel method to define the influence of traffic and new particle formation on urban aerosol population
In Finland researchers teamed up to measure 1-800 nm particles and several gaseous compounds at an urban street canyon and a
nearby background station located in Helsinki. They also developed a new method to determine the relative contributions of atmospheric new particle formation and traffic to the sub-3 nm particle population in different urban environments. 
To define the source of the particles they studied the correlation of the particles and marker gases. For sub-3nm particles, NOx concentration was used as a traffic marker and sulphuric acid concentration was used as a new particle formation marker. They found that at the street canyon traffic influenced sub-3 nm, nucleation mode (3–25 nm) and Aitken mode (25–100 nm) number concentrations, while at the background station 1 km away the influence of traffic was clear only for sub-3 nm and nucleation mode particles.
The results supported the earlier research showing direct emissions of the sub-3 nm particles from traffic. However, the researchers also showed that during new particle formation events, traffic contribution to the total sub-3 nm particle concentration can be small.
During the rush hours the median sub-3 nm particle concentrations were remarkably higher in the street canyon than at the background station, roughly by a factor of 5. Concentrations were slightly higher also during nighttime, showing the influence of the continuous traffic emissions on the urban aerosol at the street canyon site
To learn the full details of this very interesting research please read:
Measurement report: The influence of traffic and new particle formation on the size distribution of 1–800 nm particles in Helsinki – a street canyon and an urban background station comparison
Okuljar, M., Kuuluvainen, H., Kontkanen, J., Garmash, O., Olin, M., Niemi, J. V., Timonen, H., Kangasluoma, J., Tham, Y. J., Baalbaki, R., Sipilä, M., Salo, L., Lintusaari, H., Portin, H., Teinilä, K., Aurela, M., Dal Maso, M., Rönkkö, T., Petäjä, T., and Paasonen, P.
Atmos. Chem. Phys., 21, 9931–9953, 2021
https://doi.org/10.5194/acp-21-9931-2021
To learn more about the A11 nCNC (PSM) system that was used for these measurements, please visit
https://airmodus.com/a11-ncnc-system/

To subscribe to the Airmodus Newsletter, simply email info@airmodus.com