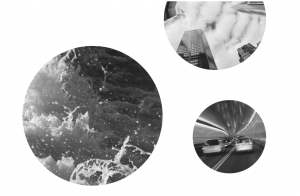 Urban aerosol* New particle formation * Nitric acid * Ammonia * Your Research
Nucleation of pure ammonium nitrate particles
Growth of nucleated particles and even the nucleation itself may be driven by nitric acid and ammonia 
In an effort to understand processes influencing ultrafine particles e.g. in polluted mega cities a series of measurements were performed in the CLOUD chamber at CERN. The interesting findings are reported by Mingyi Wang, Weimeng Kong and colleagues in Nature: Rapid growth of new atmospheric particles by nitric acid and ammonia condensation. 
"below about +5 degrees Celsius, nitric acid and ammonia vapours can condense onto freshly nucleated particles as small as a few nanometres in diameter. Moreover, when it is cold enough (below −15 degrees Celsius), nitric acid and ammonia can nucleate directly through an acid–base stabilization mechanism to form ammonium nitrate particles." 
The resulting particle growth rates can be extremely high. Even above 100 nanometres per hour. 
These findings may well explain the observed new particle formation events followed by the growth of nano cluster aerosol into larger sizes in mega cities. Several scientists have report measurements that contradict the assumption that nucleated particles would not survive due to the extremely high number of pre-existing particles: "Persistent supersaturations of ammonia and nitric acid with respect to ammonium nitrate will be sustained by inhomogeneity in urban conditions with high source strength. This will be sufficient to accelerate particle growth in the range 1–10 nm, where survival is threatened by the high coagulation sink of pre-existing particles from pollution."
The same phenomena might explain particle formation in other environments and even in some industrial processes. 
To learn about the DMA train that was one of the measurement systems used, please join a webinar given by Dr. Dominik Stolzenburg, University of Helsinki, on Tuesday the 5th of October at 10 am Finnish time. For the link to the webinar and to send questions already prior to the event please register here 
Please read the full paper for more information about the research by Wang and colleagues: 
Wang, M., Kong, W., Marten, R. et al. Rapid growth of new atmospheric particles by nitric acid and ammonia condensation. Nature 581, 184–189 (2020). 
https://doi.org/10.1038/s41586-020-2270-4 

To subscribe to the Airmodus Newsletter,
simply email info@airmodus.com